Succulent Pumpkin Centerpieces
These plants are ideal for DIY succulent topped pumpkins
There are no products listed under this category.
Fall is the perfect time to create bountiful succulent displays atop pumpkins for decorations and gifts. Succulent pumpkin centerpieces are simple to assemble and will add splashes of rich colors to tabletops, entryways, porches, and more. Best of all, your living décor will last well into the holiday season. Use our guide below to help you arrange and maintain your own succulent topped pumpkin.
Hardy succulents like Sempervivum and Sedum are ideal for outdoor pumpkins. Soft succulents, like Echeveria and Crassula, offer tropical and pastel shades, but should be protected from frost.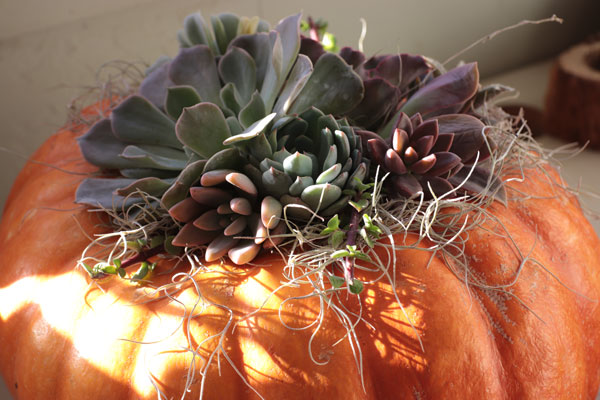 MATERIALS
1 clump Spanish moss
3 large rosettes (try Echeveria or Sempervivum)
8-12 medium rosettes (try Graptoveria or Heuffelii)
5-8 long-stemmed varieties (try Sedum or Crassula)
Live or faux pumpkin, squash, or gourd (our live pumpkin is 11" in diameter; use more succulents for extra-large pumpkins, and fewer to top small pumpkins)
Hot glue gun
Hot glue sticks
TOPPING YOUR PUMPKIN
Heat the hot glue gun to its lowest temperature and cover the flat top of the pumpkin with glue. Stick a 0.5"-2" layer of moss to the glue, covering the top and leaving a few rough edges hanging down the sides.

Starting near the pumpkin's stem, glue the largest rosettes cuttings upright to the pumpkin. Apply glue to the base of the succulent (avoid the stem cut if you intend to re-plant) and press it to the pumpkin's skin.

Continue spiraling outward, gluing the medium rosettes in place. Whereas succulents in the center are glued upright, outer succulents can be angled out to create a bouquet effect. Filling any remaining gaps with smaller cuttings and trailing long-stemmed varieties over the edges will make your centerpiece truly abundant.

NOTE: With certain pumpkins, succulents can be arranged without glue for simple, temporary displays.
DISPLAYING AND CARE
Keep arrangements with soft succulents (i.e. not frost hardy) at above freezing temperatures.
Pick a location that gets airflow and indirect sunlight but is protected from heavy rain and direct sun.
Succulent cuttings should not be watered until they grow roots. The moss, however, benefits from a light misting every couple days; try to avoid misting the succulents until they grow roots.
The pumpkin is more prone to rot than succulents, but placing it on a bit of cardboard absorbs moisture and extends the display's lifespan.
Depending on succulent varieties used and its location, your centerpiece can retain its color and last for about 1-3 months.
After use, you can remove the succulents and plant them in pots with well-draining cactus/succulent potting soil. Water deeply every 3-7 days and watch as they re-grow into living décor for spring.
We want to share your pumpkin centerpiece creations! Click here to submit photos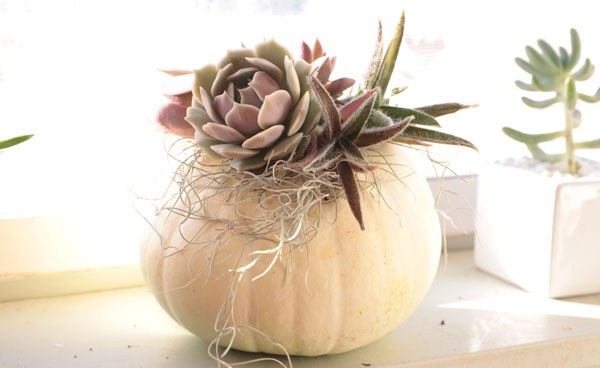 READ THE GUIDE