Aeonium 'Kiwi': Haworthii hybrid. Tricolor rosettes of green and yellow leaves edged in pink make a very attractive and showy plant for inside or outside. Tender soft succulent - will not tolerate frost. Frost areas must bring inside for the winter or grow it as a house plant.
PLEASE NOTE: Aeonium leaves are very sensitive and may bruise during shipment, resulting in brown marks. We pack as carefully as possible to minimize the marks, but bruising may still happen despite our best efforts. Therefore, this plant is not recommended for retail shelves or display purposes. The brown marks will disappear gradually as the plant grows and replaces the bruised leaves.
Example: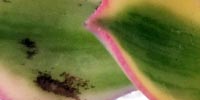 What You Receive
One order = one 2.0" container.
Primary Color / Secondary Color
Green / yellow / pink
Maximum Height
10" tall
Maximum Spread
6' - 10" wide
Recommended Light Conditions
Recommended Light Conditions
Vertical Grower / Tall Stem