Product Details
Highlights
Aeonium haworthii 'Pinwheel Aeonium': Rosettes of spring green form one of the more attractive bush-forming plants. Slight red on the margins. Lovely in dish gardens and easy to propagate. Tender soft succulent - will not tolerate frost.
Great for living wreath or wedding.
PLEASE NOTE: Aeonium leaves are very sensitive and may bruise during shipment, resulting in brown marks. We pack as carefully as possible to minimize the marks, but bruising may still happen despite our best efforts. Therefore, this plant is not recommended for retail shelves or display purposes. The brown marks will disappear gradually as the plant grows and replaces the bruised leaves.
Example: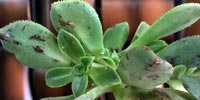 Zone 9, 10, 11
Recommended Light Conditions